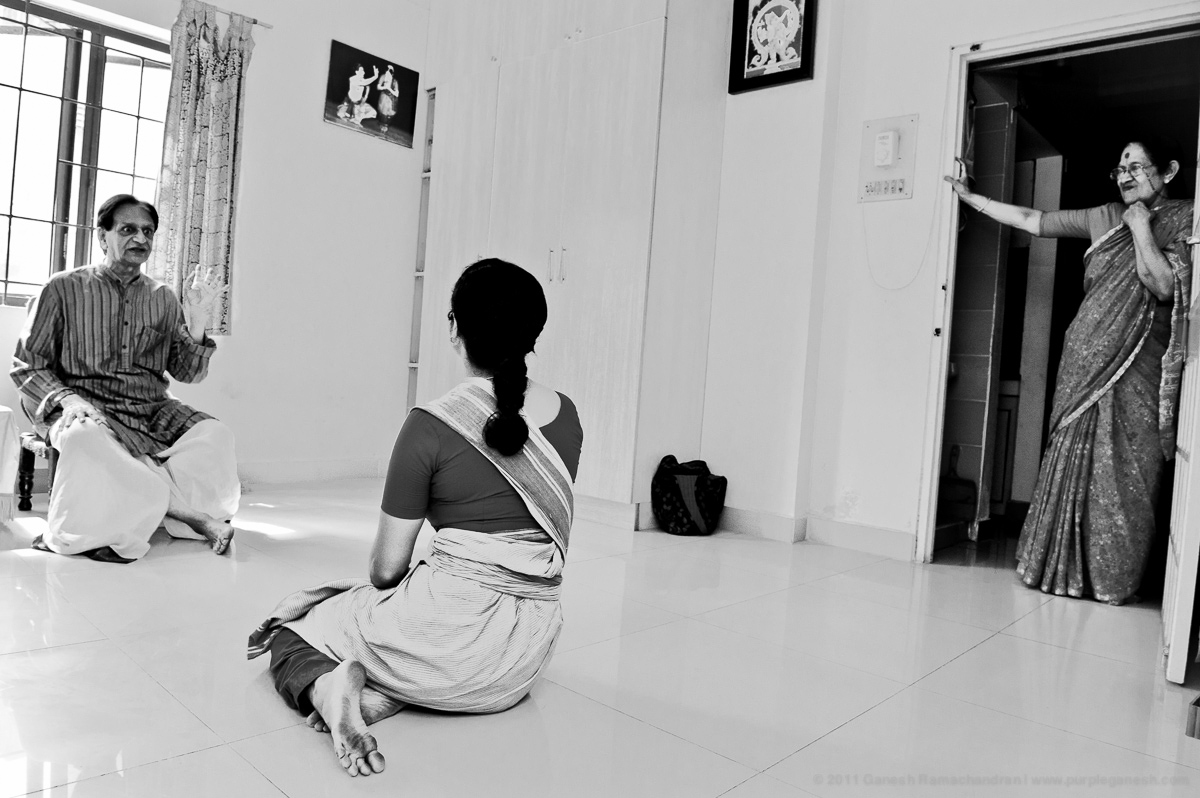 Sri C. V. Chandrasekhar, one of India 's senior-most Bharatanatyam dancers, was trained at the internationally renowned Kalakshetra in Chennai under the mentorship of Rukmini Devi Arundale. He has imbibed from his mentor the best of Indian art, culture and aesthetics. He served the Banaras Hindu University and M. S. University of Baroda and retired as the Head and Dean of the Faculty of Performing Arts of University of Baroda. C. V. Chandrasekhar is a multi-faceted artist being a dancer, choreographer, musician, scholar, composer and teacher of Bharatanatyam. He has been performing and teaching for the past six decades in India and all over the globe. A much-revered dancer in his seventies, his presentation of Bharatanatyam continues to be an inspiration for all dancers. He has also created new dance movements based totally on the Bharatanatyam technique. His major works of choreography in recent years include Ritu Samharam and Meghadutam of Kalidasa, Bhoomija (Ramayana) Aparajita (Devi Mahatmyam), and Kreeda. In 2011, he was awarded the Padma Bhushan.
As I continue as a dancer, teacher and student of dance, I always look to Chandrasekhar Sir for guidance and inspiration, whether it be in the depth and subtlety of his abhinaya, the dynamic rigor of his nritta, or the complex rhythmic patterns in his choreography. His teaching serves to ground me solidly in the tradition of Bharatanatyam, his creative work reveals the endless possibilities of the form.
Smt. Jaya Chandrasekhar trained in Bharatanatyam under Smt. Lalitha Sastri in New Delhi . She has been an invaluable partner to Sri C.V. Chandrasekhar, accompanying him as a dancer, vocalist, nattuvanar and co-choreographer throughout the years.
Jaya Mami has helped me immensely in my dance training by taking the time to explain the finer nuances of characters and movements. I have also learnt much under their daughters, Manjari and Chitra. Dance defines the flow of daily life in the Chandrasekhar house, and as a family they collaborate to teach, perform and create.
Smt. Radha Srinivasan, my late mother, was trained in Bharatanatyam by Meenakshi Sundaram Pillai and Thiruvallarputhur Swaminatha Pillai, of the Pandanallur style. She continued to teach and to learn under the guidance of her mother, Komalavalli Mani in Bombay. She taught dance at the India School in Washington D.C. and in our home in Maryland.
Smt. Komalavalli Mani, my late grandmother, was trained by Meenakshi Sundaram Pillai in Kumbakonam. She moved to Bombay after her marriage and began teaching. She started the Gitanjali Dance Academy in Chembur, where she trained hundreds of students.
During the school year, I learnt dance with my mother, who taught in our family home in Potomac, Maryland. Every summer, the family went to India where Ranjani, my sister, and I learnt from Kolima in her dance classes. Dance was something everyone in the family participated in. We performed with our cousins at family functions, and back in the US at our school talent shows. Both my mother and grandmother had a free-flowing way of teaching dance; their approach to dance exemplified effortless grace and natural, spontaneous facial expressions.